With owning a portable sawmill and operating it for mostly my own purposes I discovered some great potential.
A portable sawmill using either a bandsaw or a large circular blade can create an income. Because it's portable, the sawmill can potentially travel to a customer's location and mill their lumber onsite.
However, before I purchased my own sawmill I did a lot of reading and research. I wanted to see what all it would take to become a professional sawyer if I were to decide on offering such a service. From what I've read and through my research there are caveats to consider.
What Type of Portable Sawmill to Purchase
Right away I realized that to offer custom milling for people that a manual sawmill probably won't cut it. A larger mill with pneumatic controls would be ideal for it to pencil out and pay, but of course, that's a more substantial investment. Even with that said, there could potentially be issues of being down for more extended periods if the hydraulic system were to spring a leak or somehow become compromised. Plus the mill should probably be mounted onto a trailer. This can add versatility to your offered services by being able to meet your customer at their place rather than having them bring logs to you. However, even with a manual and smaller sawmill, you can still make some side money.
Market Research – How Much Can You Make
It's important to do some market research in your area to see what the demand might be for a sawmilling service because every market is different. Where one marketing area can earn $60 an hour, another market could support $100 plus per hour. Make sure that you can make a profit above your expenditures. There's a lot of little unseen expenses in any business you might operate so make sure you understand the going rates and what your earning potential might be and determine if it'll pay for itself. A sawyer business will require some basic understanding of operating your own company, which can include the good, the bad, and right down ugly part of dealing with the public.
Competitors and Resources – Who Are They and How Many
Are there tree services already operating in your area that might already have a sawmill operation, if not you might want to talk with them about becoming a resource. In other words, you need to determine a good source of logs for milling, so your inventory is adequate. Also, are there other portable sawmill operators in your area, and to they seem to be successful?
One positive note, with the internet today, there are multiple areas where you can potentially find someone wanting to sell a log typically at a price surprising inexpensive, and an excellent resource for selling any service you're offering and product that you produce.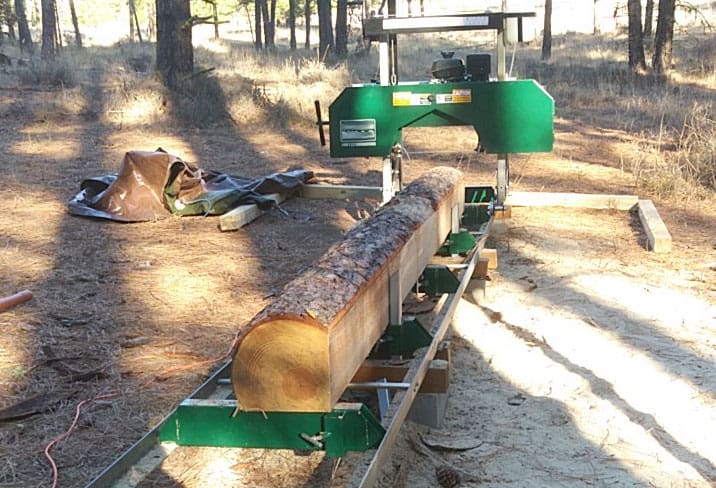 Physically Demanding
This type of work requires a lot of physical labor. Not to mention all the other tasks that are necessary for operating a business. In other words, it can be both a physically and mentally exhausting, especially if you're a new start-up. You'll find yourself wearing multiple hats to keep your costs down, are you ready for all of that? Personally, after a few days of wrestling logs and cants around on my mill, I'm worn out. In fact, I'm ready to go back to my day job to get some rest. Especially, since I'm a desk jockey not in the best of shape for this type of work.
Other Equipment Needs
Besides the sawmill, there will most likely be other equipment needed to manage logs and process the lumber after completing a job. It could require a forklift, tractor, planer, drum sander, flatbed truck, or a flatbed trailer to mention a few.
As a side note, make sure that there are spare parts for your sawmill on-hand. Being down due to the break down of a $50 part can become very expensive, especially if you happen to be working at a remote location.
Think of items like blades, roller chains, connection links, sprockets, bearings, belts, roller guides, and a spare trailer tire. With all of this, make sure to have a toolbox full of appropriate tools that make changing out any of these parts easier.
Multiple Offerings For Making Money With Your Sawmill
If you could ask most people who own or have owned and worked a portable sawmill, I believe you'd find that a sawmill business at best would be an enjoyable hobby or a side hustle added to some other wood related business.
What is meant by this is having a portable sawmill would be a great companion to a woodworking shop or someone building dog houses and chicken coups.
Alternatively, as mentioned earlier, if you're in the tree business, having a sawmill would fit perfectly for those months that maybe your tree business is slow due to the season.
Additional Ideas To Making Money With a Portable Sawmill
Create and Sell Planking – Rather than using a sawmill for cutting logs into lumber for other people, you could also gather up logs from either your property or purchase them from some other resource, mill them into planks, dry them and then offer them to woodworking shops or stores that sell various types of wood both hard and softwoods. One drawback of this would be the amount of room it could require to sticker and store the wood while it's drying.
Build a Simple Kiln – If you can set up a simple kiln and kiln dry your wood that will potentially add more value and could be an additional service you can offer to other sawmill owners. There are many plans on the internet that can instruct you on how to make an inexpensive kiln until you can afford a better solution. It will also be beneficial if there's a variety of species that you have on hand to broaden your market with the ability to fulfill more customer needs.
Make Your Own Lumber and Save – If you're on a homestead or farm, building outbuildings, corrals, barn, or even a house, a sawmill could help with your lumber needs by cutting your own which in turn will save you money which in essence is like money earned. This is basically what I'm using my small sawmill for as I lead up to building a home on my property.
Create Live Edge Planks – Milling live-edge planks are useful for exterior siding or interior walls. Thicker live-edge planks would be suitable for shelving or fireplace mantles. Another use for thicker double live-edge planks is making rustic outdoor furniture such as benches, stools, and tables, along with counter or benchtops inside a home. Another favorite item is round trunk or log slices used for wedding centerpieces among other decorative ideas for the holidays and more. Set up a template and jig on your sawmill to cut thicker, larger round slices that used for signage, stools, or end tables.
Create Wooden Products – Using the wood you mill in your sawmill, create a line of finished products such as something like boxes, baskets, small wooden doodads, or even some larger pieces of furniture like outdoor picnic tables or indoor coffee and end tables.
And Finally…
So with all of this in mind, making money with a small portable sawmill is much like any other business you might choose to start. Proverbially, start small and grow into your business as you acquire more customers which leads to more sales and revenue. Furthermore, put in writing your plans on how you're going to operate and use that as your road map to success. Be open-minded to change though because an unforeseen niche could crop up that isn't anywhere near what you were thinking about doing with your sawmill. Above all, be patient because like most business ventures, sawmilling is not a cash cow type of business.
Now go out and have some fun as you create lots of sawdust in your new endeavor.
If you liked this reading please check out other articles on this website, woodsyacres.com.