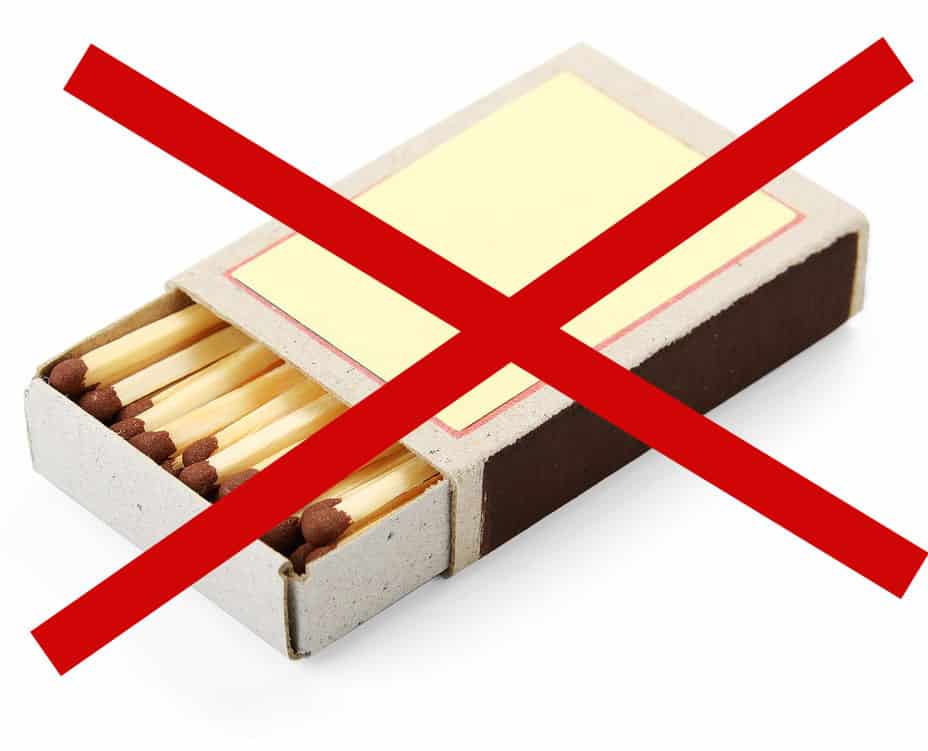 With today's modern technology using alternative energy for lighting up the indoors and outdoors makes more sense with many products available. These devices are suitable for any situation lighting is required, where there is limited to no electricity, and without an open flame.
What types of lighting solutions are available that don't require a fire? There are hundreds, if not thousands, of products today that can provide long and short-term lighting without needing any type of fueled flame.
The various products listed below have lots of different uses and use LED. In this article, I will share some of the devices we use for our off-grid lighting options, along with some pros, cons, and power source information of each device.
Here are 17 Product Ideas For Your Off-Grid Lighting Solutions
1. Larger Rechargeable Floodlight Lanterns Offer Lots of Lighting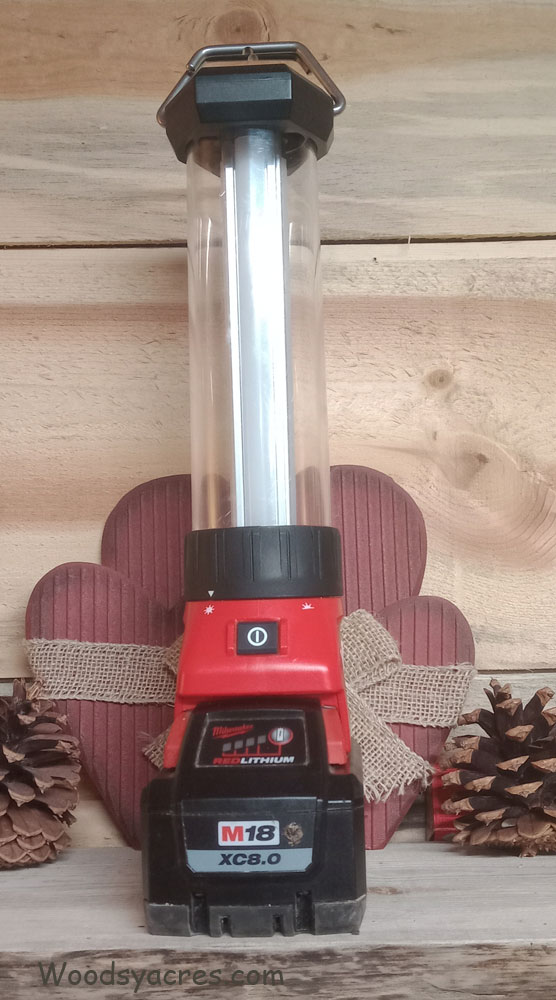 Mostly thought of as construction lighting, these types of lights can come in various sizes and shapes. Use them for both indoor and outdoor primary lighting.
There are a lot of variants to this type of lighting. Some are small enough to sit on a table or on the ground. In comparison, others have a tripod stand with a telegraphing pole to get the light high up to cover a broader area.
They often use batteries that you see used in cordless drills and other tools.
These can be found online and at most big box stores.
Battery Types: Larger bulk lithium and some NiCad pack from 12V to 40V.
Brightness Range: 250 to 2000+ lumens
Pros:
Provides light for more extensive areas
It can provide lighting for more than 6 hours on the same battery
Devices can offer and charging source through USB or a small AC inverter
Cons:
It can be bulky due to the battery and device size
Most require a specialized charging unit to recharge
Recharging requires a power source
Recharging time can vary, which can become inconvenient
Price Range: $45 – $4000
2. Vintage-looking hurricane lanterns can hang or stand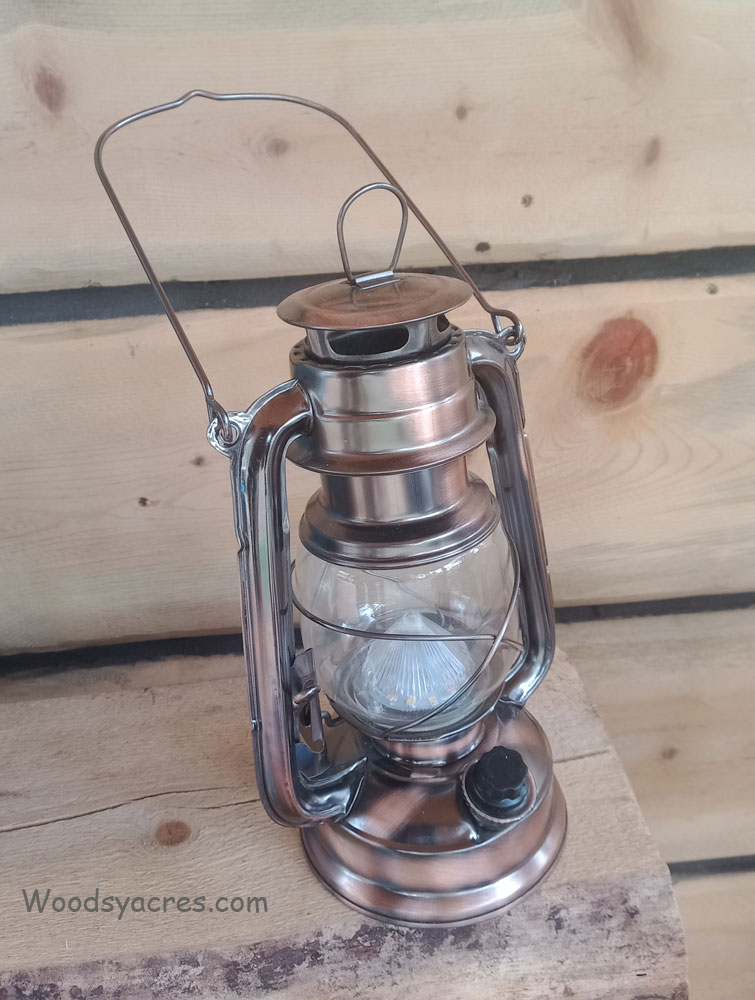 These types of lanterns are more for ambiance than functional lighting. They put out a limited amount of light that works well for seeing a short distance, just like the oil-based lanterns of this type.
The light is dimmable with a built-in knob. Most of the body consists of metal with a swinging handle for carrying or hanging the lantern.
Battery Types: Ni-Cad
Brightness Range: 10 – 150+ lumens
Pros:
Designed for indoor and outdoor use
Saves on battery costs
Nostalgic look without the mess
Cons:
Limited amount of light.
They tend to need recharging frequently, but maybe from leaving them on so much because it makes any room cozy.
If an LED Hurricane Lantern interests you, there are some on Amazon.
Price Range: $16 – $70
3. Headlamps offer hands-free lighting where it's needed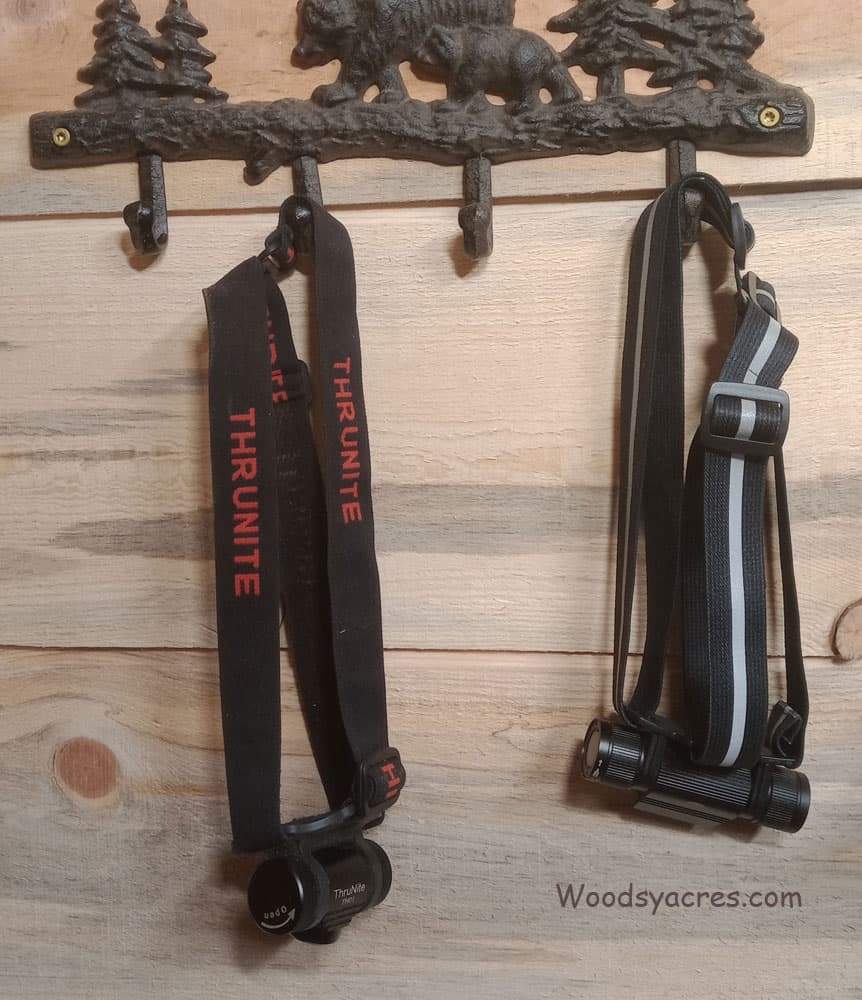 These are good for getting around at night or in dark places. Because they are worn on your head and typically really bright, plus they provide light wherever your head turns.
These devices offer both rechargeable and non-rechargeable batteries, with some offering both options. Headlamps are great for any emergency planning and bugout bag. Some provide a strobing light or red light that indicates help is needed.
You'll find headlamps with battery packs on the back of your head and others with everything built-in to the front where the light sets. (We are NOT talking about surgical headlamps here, only personal outdoor-type headlamps.)
Battery Types: Alkaline or Lithium
Brightness Range: 10 – 5000 lumens and more
Pros:
Offers hands-free lighting
It provides brighter light output
Lightweight
Smaller in size, so it is easier to store
Cons:
Depending on the style, they can be challenging to keep strapped on your head.
Lamps with the battery pack on the back can cause stress and pain after being worn for some time.
The Head strap stretches out over time and wears out.
Price Range: $5 – $800
4. Flashlights are a light that everyone should have at least one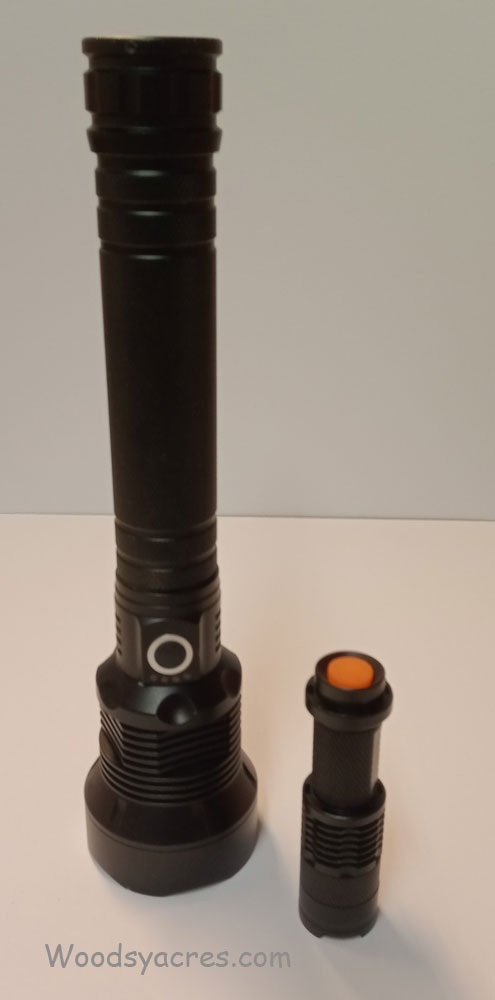 The portable tubing-type lighting device has been around since the invention of batteries. They come in all sizes and shapes, making them portable and lightweight. Everything from a keychain flashlight to a high-intensity flashlight for rescues and many variations.
Many flashlight brands are inexpensive and great as a backup light source. Battery sizes commonly include AAA, AA, C, and D batteries, either standard or rechargeable.
Other batteries, such as the 18650 Li-ion battery, require a flashlight specifically manufactured to fit that battery. Some brands also offer a flashlight plugged in using USB or plug connectors to recharge the built-in batteries.
Battery Types: AAA, AA, C, D, Ni-Cad, and Lithiums
Brightness Range: 10 – 100000+ lumens
Pros:
It is very portable and, depending on the style, somewhat lightweight.
Easily store one anywhere as a backup due to their size.
A lot of light output.
Most use standard household batteries.
Cons:
The smaller models are easy to misplace or lose.
Depending on the style, having a recharge source may not be convenient. Sometimes, just popping alkaline batteries is quicker and easier.
Some batteries will leak over time so the flashlight can become damaged if forgotten or misplaced.
Price Range: $1 – $650+
The flashlight I use is the larger one in the picture above. It has been my go-to reliable flashlight to really light up my way. This high-lumen LED flashlight can be found on Amazon.
5. Table Lamps-Rechargeable and Non-Rechargeable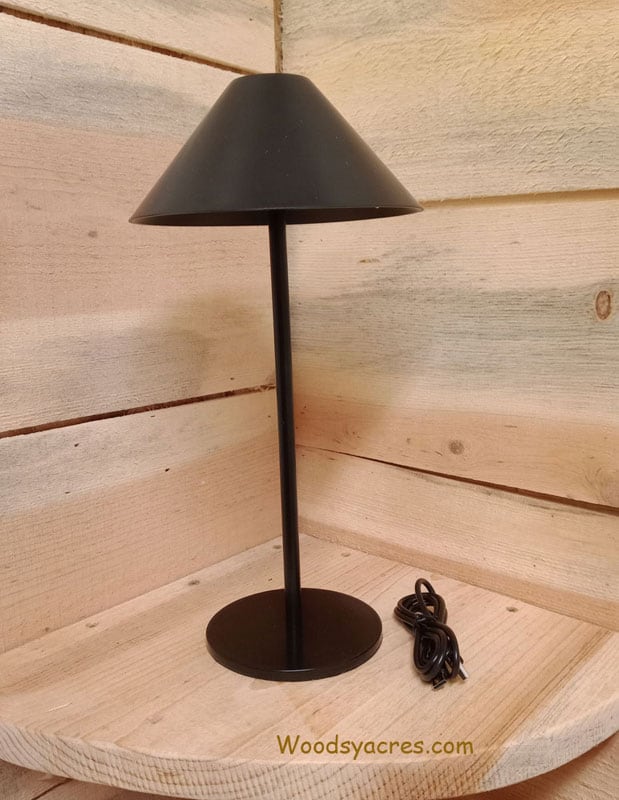 Lamps are typically stationary and sit on a table, desk, or dresser to light up a room or smaller area near the lamp.
Lamps tend to put off a softer light by using filtered light bulbs or something like a lamp shade. They can also offer a room that homey feeling.
For a long time, these types of lamps had limitations. Today, there are more varieties from which to choose.
Battery Types: AA, C, D, and Lithium
Brightness Range: 5 – 800 lumens (adjustable in some lamps)
Pros:
Place anywhere light is needed on a flat surface Use indoors or outdoors.
No more figuring out a place to run a power cord
Most use a USB cord to recharge.
Multiple brightness modes or dimmable on some models
Cons:
Usually smaller in size.
It will eventually require a power source to recharge.
They are not as bright as other rechargeable light sources.
Some lamps lack quality.
Price Range: $25 – $250+
Are you in need of a rechargeable cordless table lamp? The one pictured above in this article is no longer available. However, there are many to choose from here on Amazon.
6. Lanterns-Non-Chargeable and Rechargeable for outdoors and indoors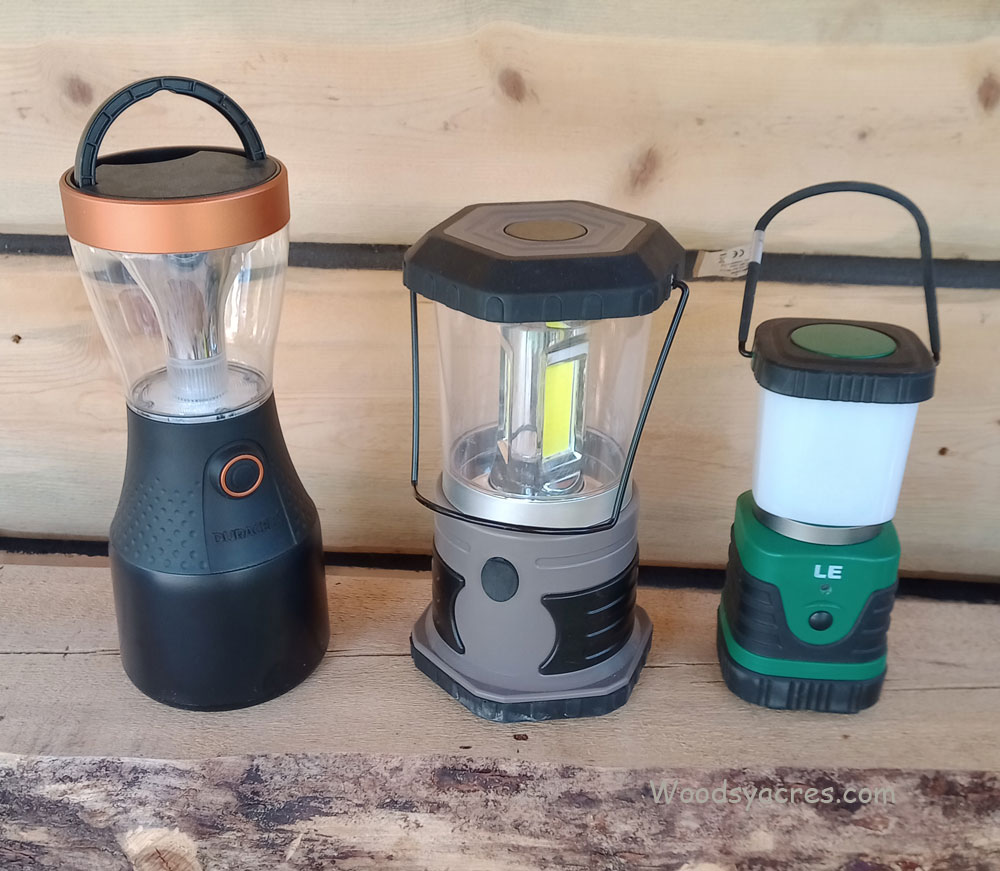 These are medium-sized to small lanterns offered online and in retail stores with a camping department. Some run off standard alkaline batteries, and others have built-in rechargeable batteries.
You can find solar rechargeable lanterns as well. I tried a couple of different brands of solar lights, but they didn't make sense for our situation. Plus, they would not stay lit long after charging for a whole day. In my opinion, built-in solar and crank power lanterns fall in the same category.
We purchased a set of larger lanterns using standard D-size batteries (first lantern in image) and tried using them for regular lighting. However, we quickly learned that the batteries would only last, at best, about a week.
If you've priced D batteries, you'll know this can become an expensive light source.
We now use these in an area where it's an additional light source with occasional use or for emergency lighting. I've found these lanterns last for quite some time in this capacity.
Battery Types: AAA, AA, C, D, and various rechargeable Ni-Cad and Lithium
Brightness Range: 200 to 1800+ lumens
Pros:
Usually brighter lighting.
Use indoors or outdoors.
It easily hangs on a nail or sits flat like a table.
Save on batteries if rechargeable.
Cons:
Depending on use, some burn through batteries quickly.
Somewhat large and a bit bulkier
Some use D or C-size batteries, which are expensive if they're not rechargeable
Price Range: $10 – $250+
7. Motion Sensor Under Counter Magnetic Lighting Bars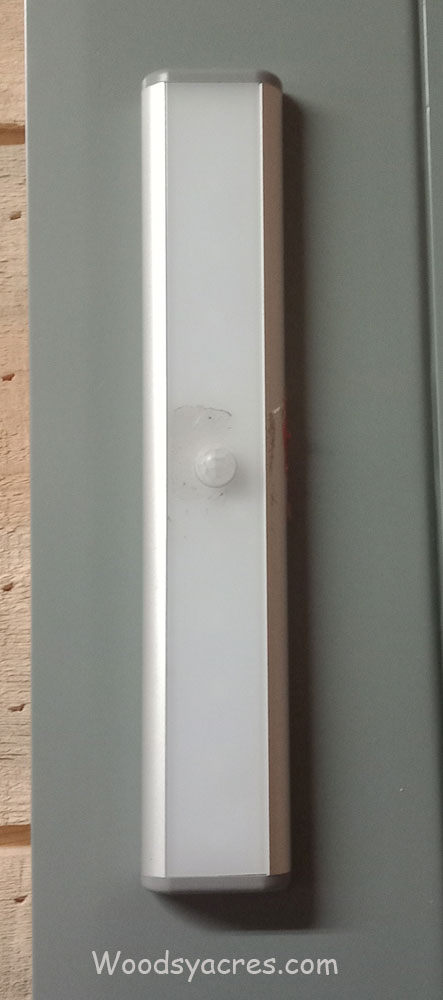 These are awesome for having essential lighting in a dark area or under a cabinet to offer light below. We use ours in the kitchen in strategic areas needing some extra lighting.
Also, works great for lighting a dark hallway or stairwell.
We also have one in the living area as a night light. The backs are magnetic, so they'll stick to anything metal. They also come with a metal bar and double stick tape to help install them.
This particular light source has a switch that can turn the light on constantly, just like a flashlight.
Battery Types: Lithium
Brightness Range: 50 – 400 lumens
Pros:
Motion-activated, so there is no need to turn them on or off manually.
Internal rechargeable batteries, so no changing is necessary.
Easy installation
Cons:
Must detect motion to stay active in the on position.
Requires a power source to recharge
Price Range: $15 – $80
You can find these lights here on Amazon if you're interested in them.
8. Motion Sensor Lights Battery-powered Where There's No Sun.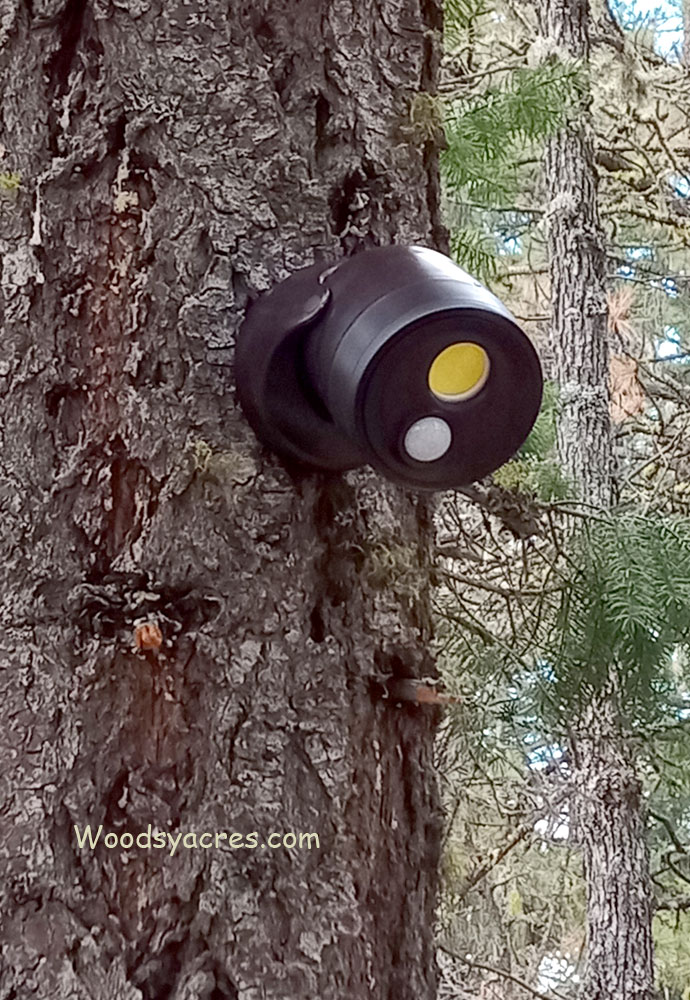 Primarily used outdoors, although they are not sun dependent, it is possible to use them indoors. I've placed one inside a shed as well as in an attic.
Outdoors work well for shaded areas throughout the day.
Hang them on a post, tree, or building for a convenient way to light up a particular area. There are several versions of this type of light source, but this is the version we use.
Battery Types: AA, C, and D
Brightness Range: 60 – 600+
Pros:
Suitable for darker areas where there's no sunshine.
Can point them where the light is needed the most.
Battery life increased due to them being motion-activated.
Cons:
You'll have to use a ladder to remove the unit from its position to replace the batteries.
Must detect motion to stay on.
Price Range: $15 – $70
To get a set of two of these battery-powered sensor lights, go here to Amazon.
9. Solar-powered Motion Sensor Outdoor Security Lights Saves on Batteries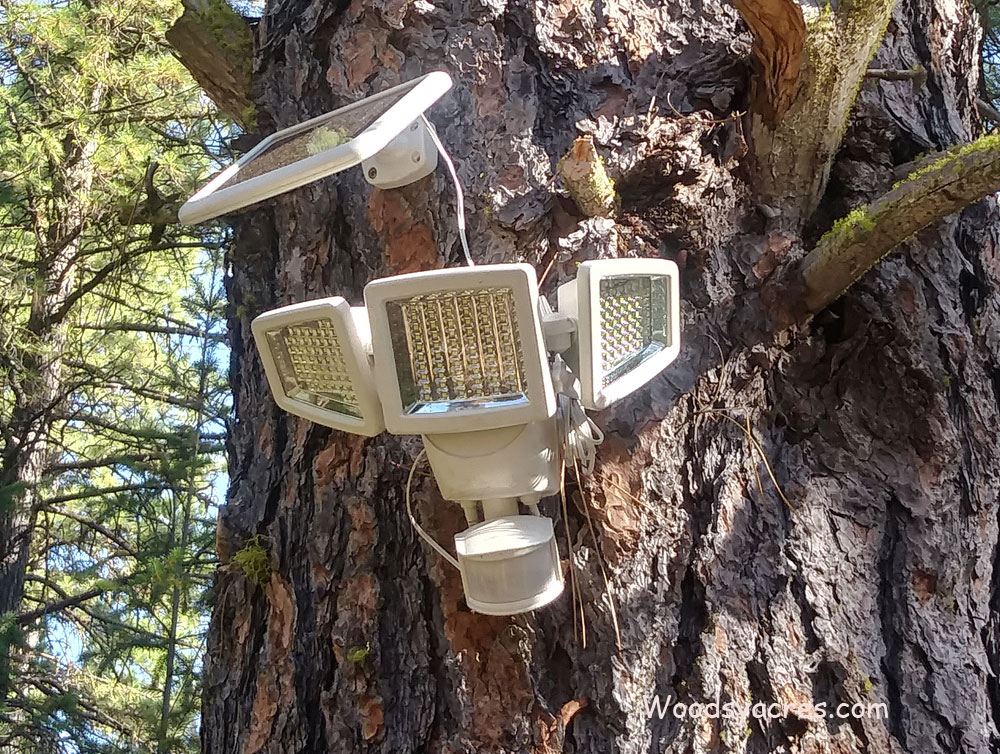 If quality is good, these types of outdoor lights are a godsend. They typically have a separate solar panel with a power cord leading back to the batteries stored within the device where the lights reside.
The design of some models acts like street lights that put off super bright lighting. However, the smaller popular lights are great for lighting up a pathway or adding security in an area without grid power.
I've personally had one outside on one of my sheds for over eight years, and it still works excellent, along with several mounted on trees at the mountain property for over four years.
Battery Types: Lithium
Brightness Range: 100 – 30000 lumens
Pros:
Adjustable light length times.
Adjustable light and motion sensitivity.
Brighter lighting with more LED lights.
Cons:
It requires at least partial sunshine to charge the batteries.
Light goes off eventually when motion is not detected.
Price Range: $30 – $1,300+
10. Light Pucks Rechargeable & Standard Batteries for Dark Areas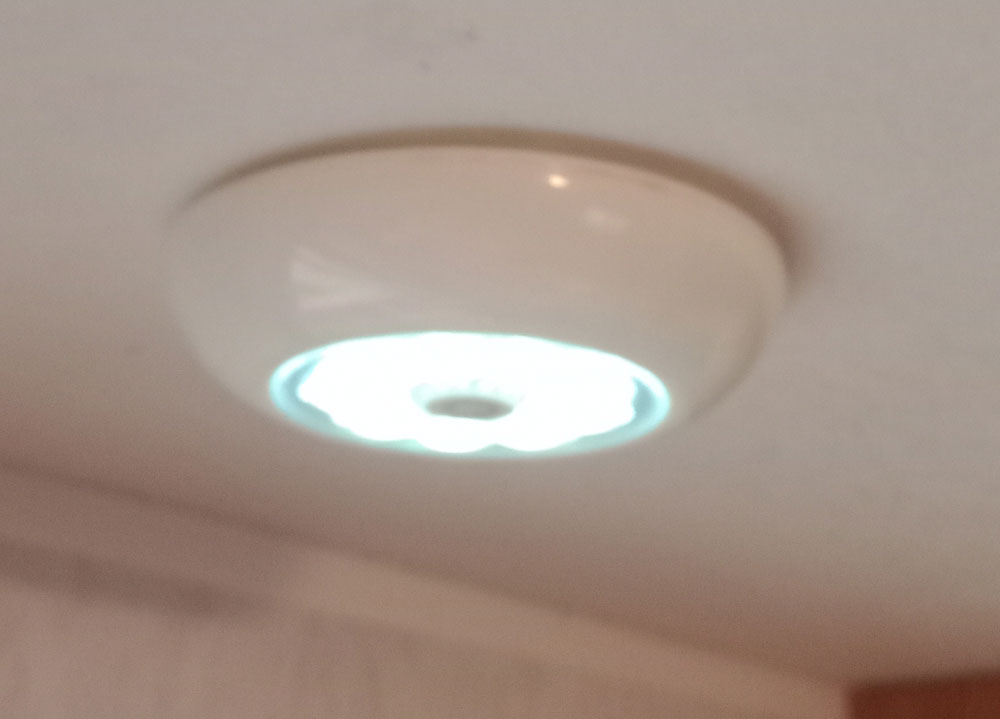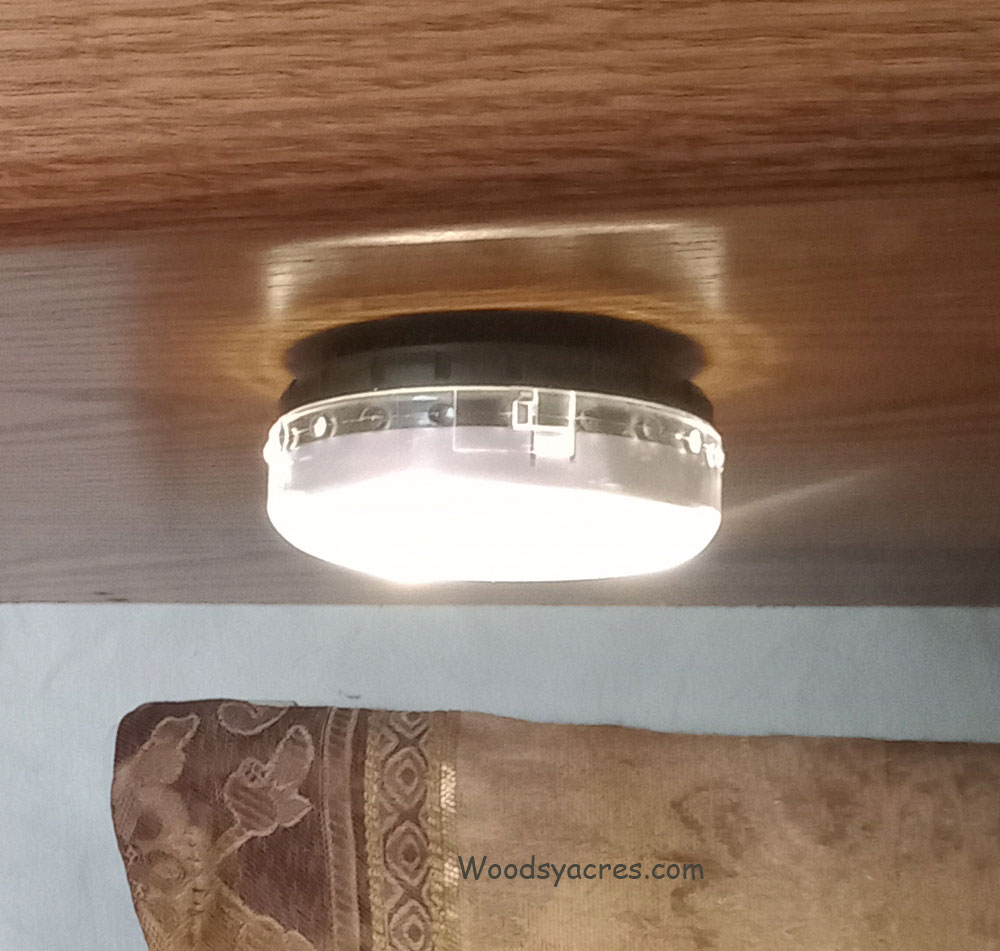 A simple lighting source is great for closets, cabinets, or any place that might require a little extra lighting.
Manually turn them on or off by pushing on the puck to engage or disengage the light.
Or, some have a remote control to power them on and off. Also, some models now offer built-in motion sensors to come on when someone walks close to the device automatically. Since we boondock on our property, we use this type of lighting inside our travel trailer. This type of light saves us from having to keep running the generator.
Battery Types: AAA and Lithium
Brightness Range: 50 – 200 lumens
Pros:
Small enough to place anywhere light is needed.
Some models come with remote control.
Other models have motion sensors built-in.
Save on batteries if rechargeable.
Cons:
Battery replacement if not rechargeable.
Potential battery acid damage if batteries get left in the device for too long
Some pucks require them to be turned on or off manually
Price Range: $4 – $12 each. Usually sold in packs of two or more.
11. Solar Directional Spot Lighting Helps See the Way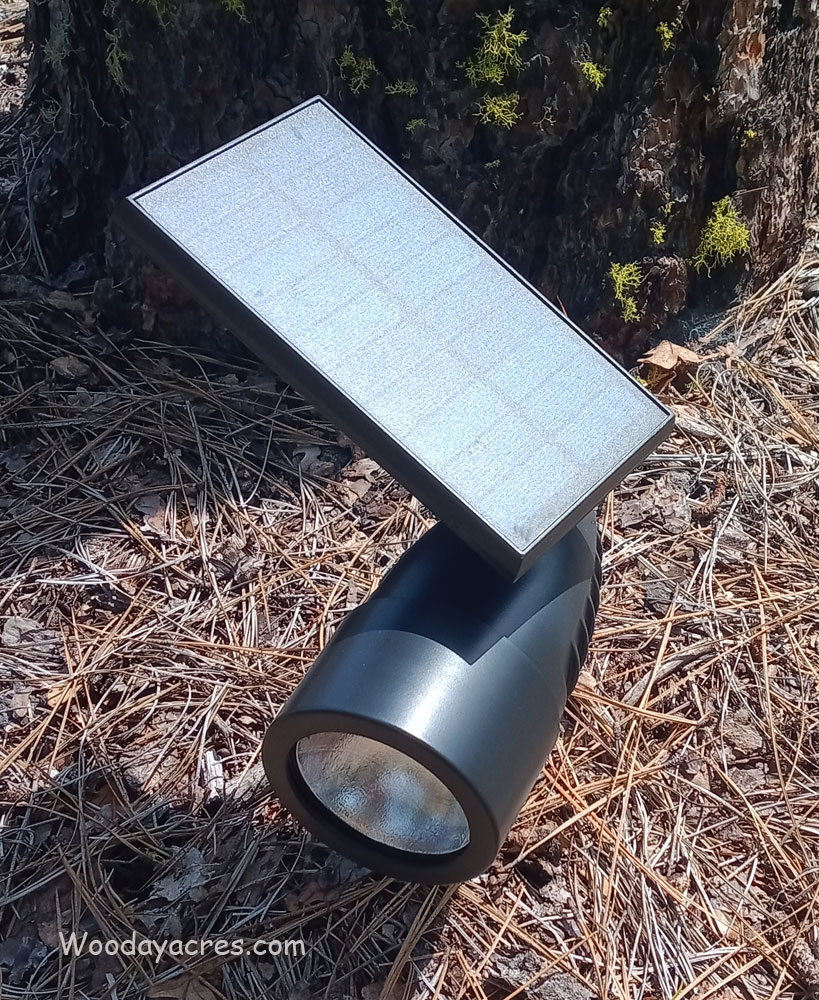 Designed for outdoor lighting, these work best staked into the ground with an attached solar panel that you point towards the sun. Some models offer a bracket mounted on a wall or post to install the light somewhere other than the ground.
Somewhat like a flashlight, it can be pointed at a location and adjusted up or down. This light can be bought online and in big box stores, either individually, in pairs, or several in a packaged kit. If these lights look like something you'd like, here is an option you can find on Amazon.
Battery Types: Mostly Lithium
Brightness Range: 200 – 700 Lumens
Pros:
Ground mount anywhere needed.
No wiring is required.
Point them where light is needed the most.
Long-lasting batteries when fully charged.
The solar panel typically swivels toward the sun to get optimal charge.
Cons:
Requires sunshine to charge the batteries
Ground-mounted models can easily get knocked over if bumped.
Price Range: $12 ea – $120 plus for large set
12. Solar-powered String Lights for Setting the Right Mood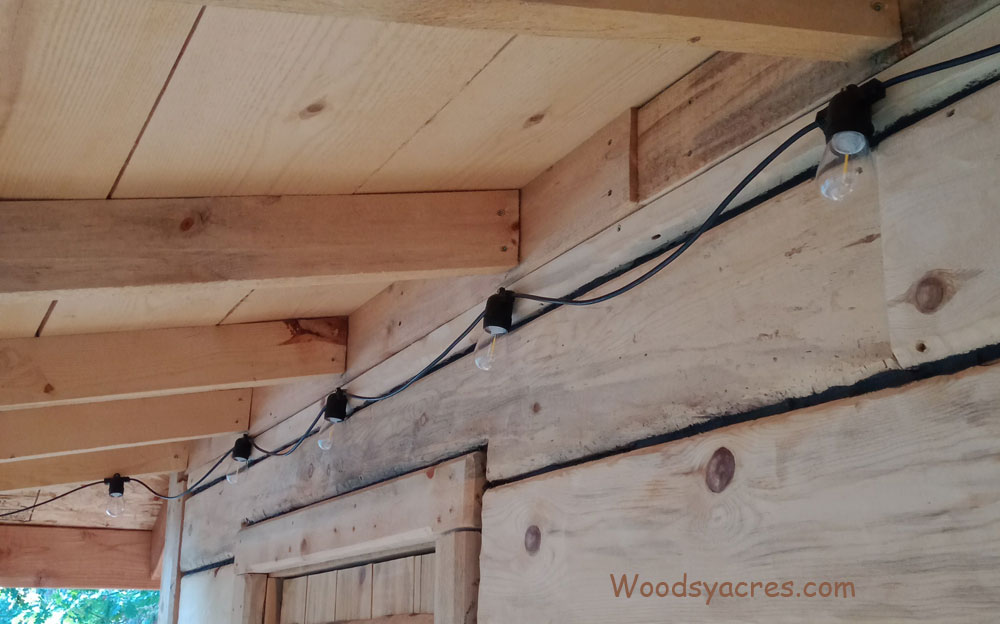 These are typically used outdoors for lighting decks and patios, but that doesn't mean they can't find a way inside. The lighting is a warm light, not so much for detail work. By combining all of them, you'll be able to see enough to get around.
We use string lights to light up our porch and general lighting outside. We string them from one tree to another to provide lighting to various areas outside the cabin and the travel trailer.
They provide light for about 4 to 9 hours, depending on how much sunlight there is during the day—available online and in big box stores.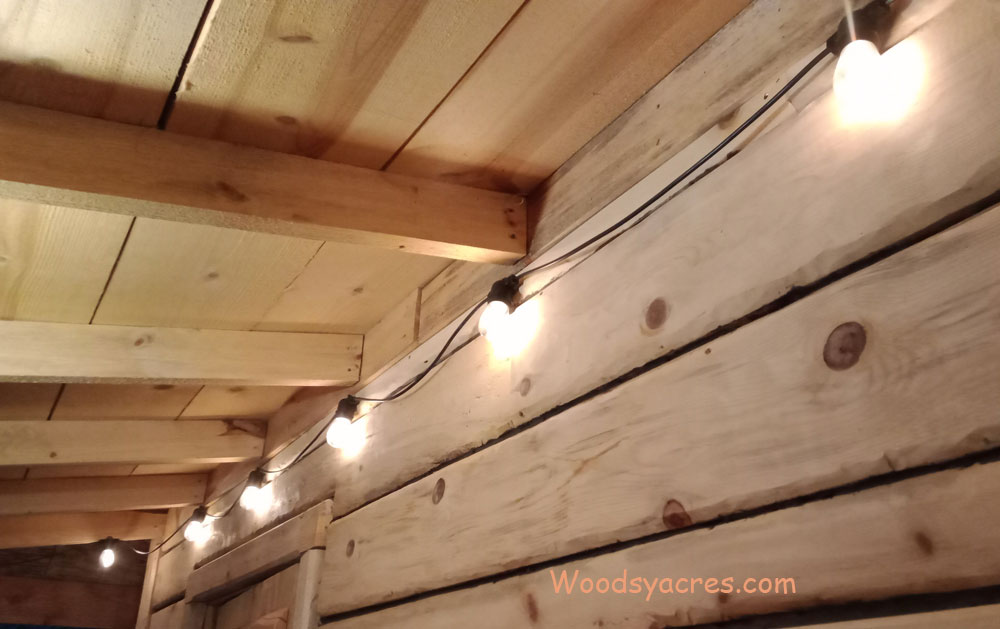 Battery Types: Mostly Lithium
Brightness Range: 80 – 230 lumens
Pros:
Waterproof construction
Shatterproof LED Edison-style light bulbs (other styles available)
Easy to hang with supplied holes on each bulb housing
Most models include a remote controller
Some models offer a dimmable feature
Cons:
It requires sun to recharge batteries; however, some models offer USB recharging.
Overall brightness is limited, these are for creating a mood.
Could stop working on multiple cloudy days
Price Range: $20 – $60 plus
13. Solar-powered Pendant Lighting for an Entry, Deck, or Porch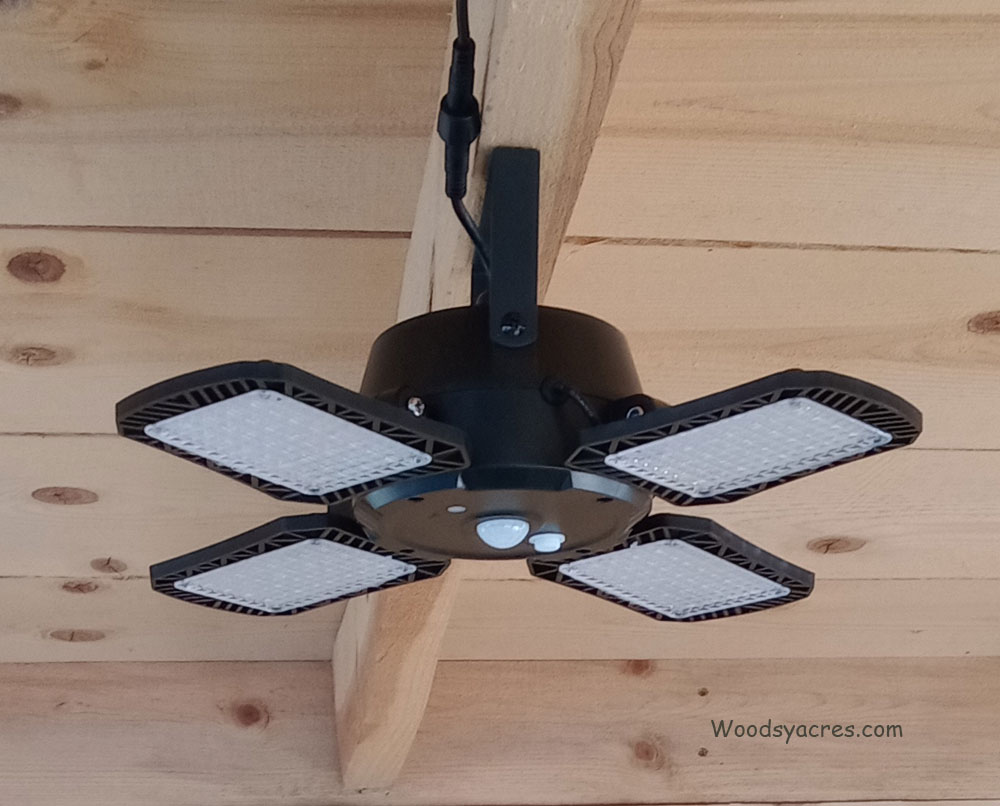 This type of light hangs from the ceiling and points downward to light an area under it. Most come with remote control, and some models offer motion sensors to turn the light on or off when no motion is detected. Some offer to dim features through the remote.
The one we use is awe-inspiring; it has a motion sensor and remote control and is brighter than any other outdoor light we own or operate.
According to the manufacturer, the batteries have a life of five years or more.
Once it doesn't detect any motion, it dims for a while before shutting off. It also offers four lighting modes I've not used because it's only an entry light. If you're interested, you can find it here on Amazon. (This is an affiliate link.)
Battery Types: Lithium
Brightness Range: 100 – 1000 lumens
Pros:
Extra-long cord to the solar panel
Remote control included
Four light modes
Super bright light makes it easier to see where you're going
Motion sensors for better security and battery life.
Cons:
Requires sunshine to recharge the built-in batteries
Price Range: $20 – $80 plus
14. Solar-powered Path Lights Help Lead the way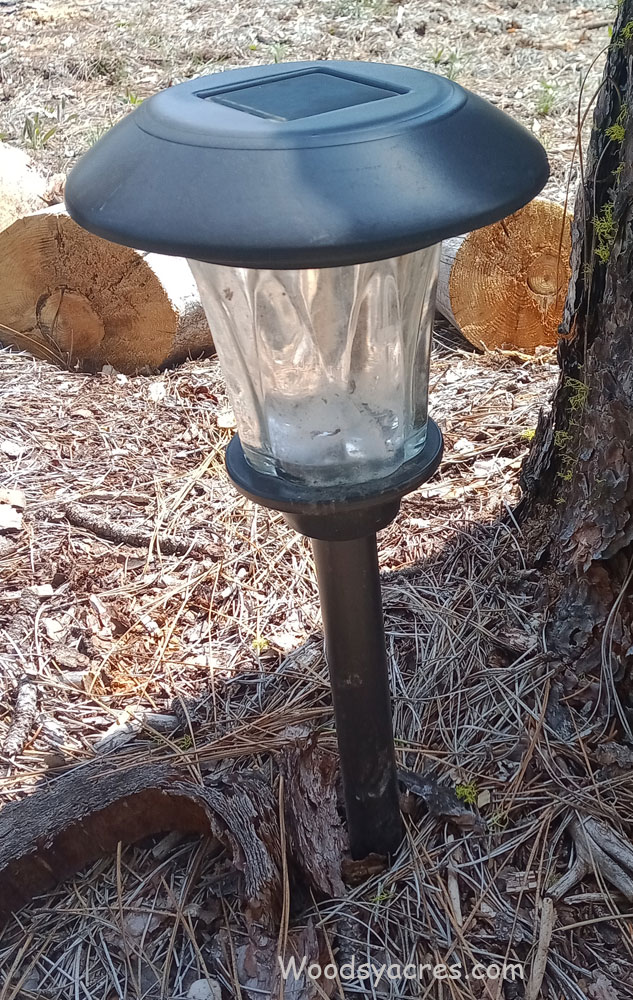 These were some of the first built-in solar lights for lighting up a pathway or highlighting an area in a yard.
They throw off only a tiny amount of light but enough to see the ground around them.
Other path lights are mounted rather than staked into the ground and used outside a building for security reasons, on wooden steps, or in deck areas.
Specific models today can provide more light for an extended period.
Battery Types: Ni-Cad or Lithium
Typical Brightness Range: 10 – 400 lumens
Pros:
No wires to run to provide power.
Quickly stakes into the ground where ever lighting is needed.
Move the light quickly with no fuss.
Cons:
It needs direct sunshine to charge appropriately.
Limited amount of lighting
Degradation of the lamp over a short period due to sun exposure
They provide light for a shorter time due to a smaller battery size
The unit is easily knocked over depending on placement
Price Range: $20 – $100 depending on style and quantity of lights in a package
15. Solar and Rechargeable Power Packs for Charging and Lighting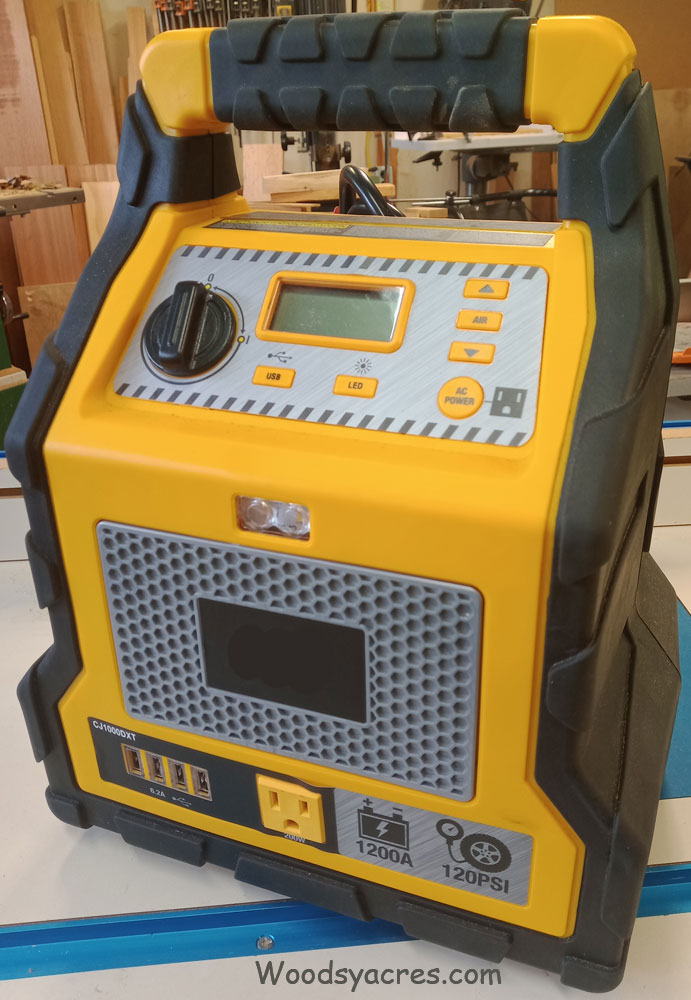 On the market today, all kinds of different power packs use batteries to store energy for later use. From solar generators offering A/C power to a small portable brick type using a USB cable that can charge and get recharged from another power source.
Some smaller versions have a built-in solar panel or a separate larger panel that aids in renewing them. Depending on the size and model, they can range from 1000mAh to 2000wh and more power.
Many of these power devices also have a light source built into them.
Battery Types: Lithium
Brightness Range: 100 – 400 lumens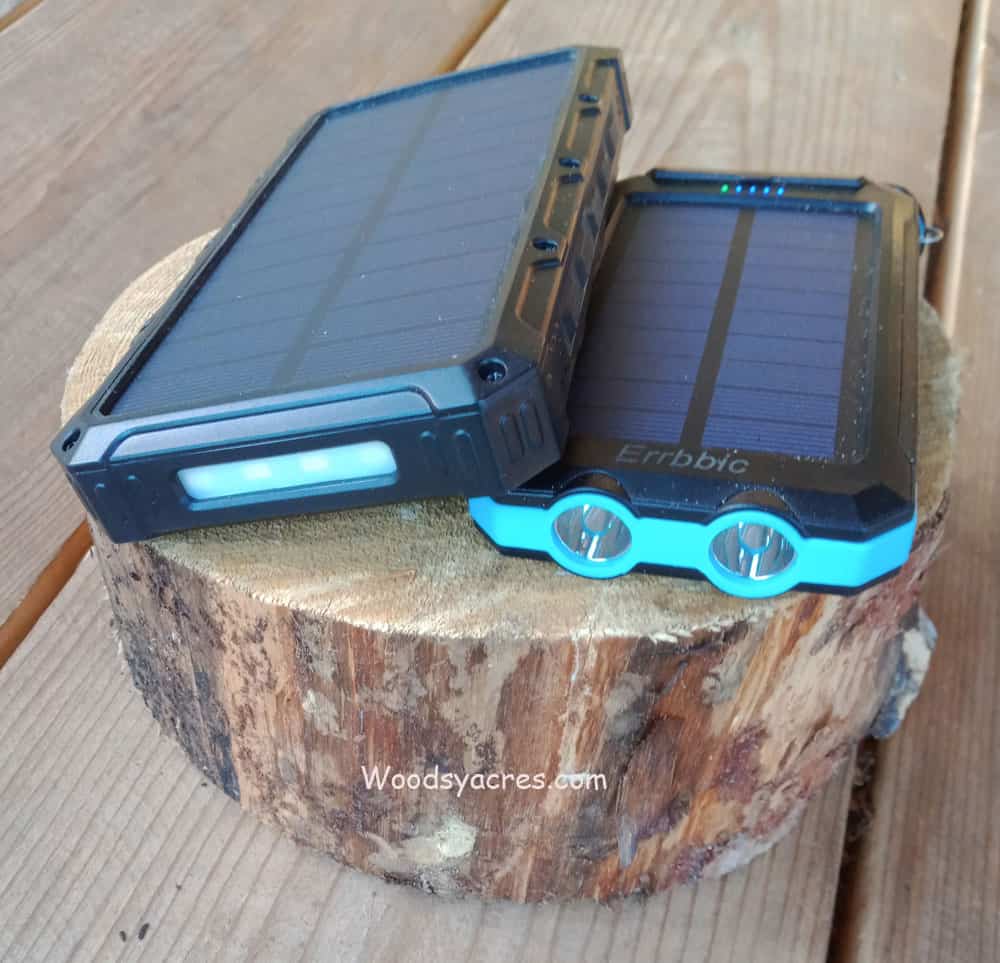 Pros:
Charge any USB rechargeable devices
Lots of extra power
Many come with a built-in light so you can see what you're doing
Some have a small solar panel built within the unit
Some units offer the option of adding solar panels to them for recharging
Some larger models offer an AC outlet for plugging in battery chargers and such
Capable of connecting in parallel for more power
Cons:
Some models are bulky and very heavy to carry around
The built-in lighting is not the brightest of lights
If solar is not an option, the power pack will require another source of electricity for eventual recharging
Smaller units with integrated solar do not charge very well for their recharging power source
Price Range:
16. Battery-powered Candles Eliminate the Need for Matches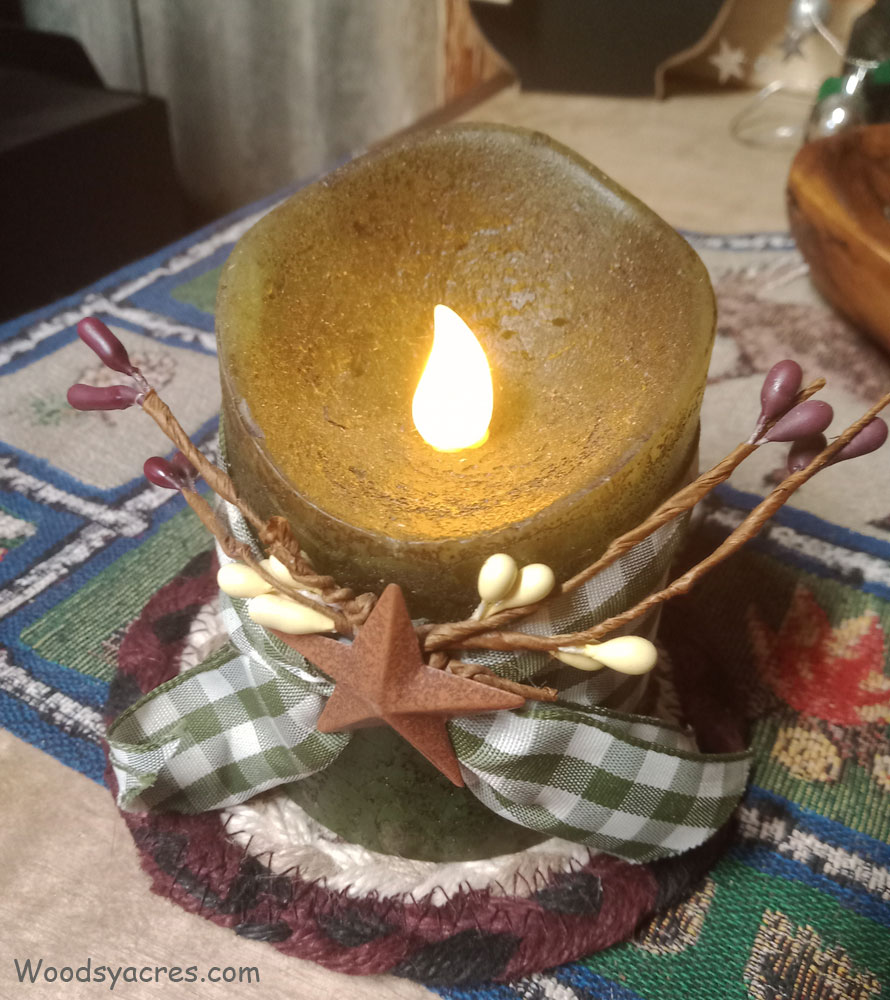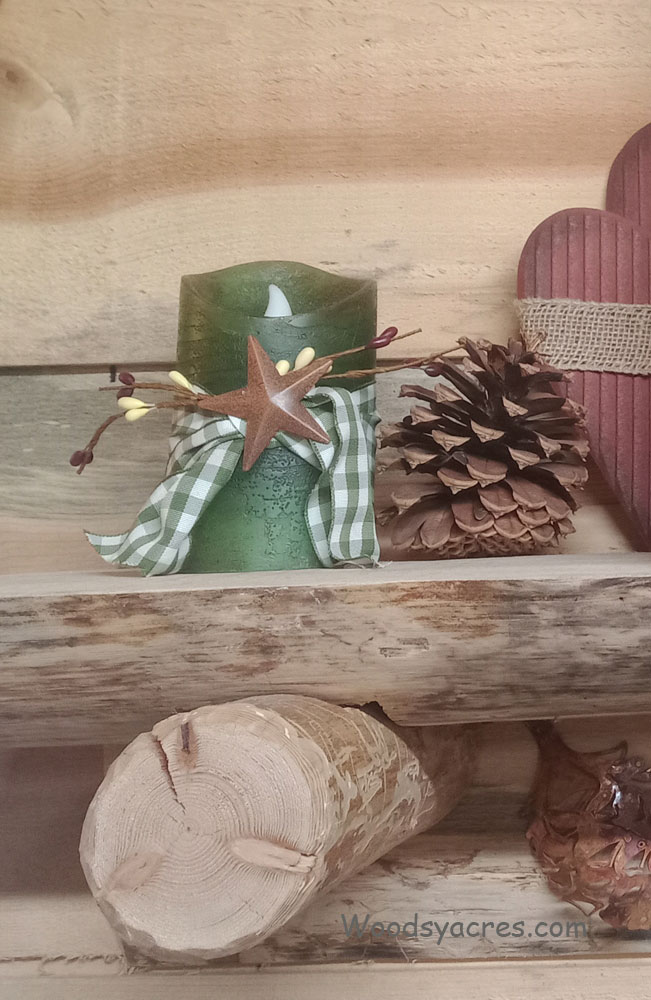 This light provides just about as much as a real candle but without the flame. This candle is not a light source you'd use for intricate work but will offer some light.
Most of these types of lights use standard batteries in AAA or AA sizes. Give any room that little extra mood-setting glow.
Battery Types: AAA, AA, or rechargeable batteries using Nicads.
Brightness Range: Limited. 15 – 80 lumens
Pros:
No fire needed
The flame will not go out with a breeze from movement
Portable enough to place just about anywhere
Most include a remote that offers various lighting modes
Cons:
Unless rechargeable, the batteries will need to change often
The expense of alkaline batteries if using non-rechargeable batteries
It does not emit a lot of light
Price Range: $1 for tea lights – $380+
17. Lightsticks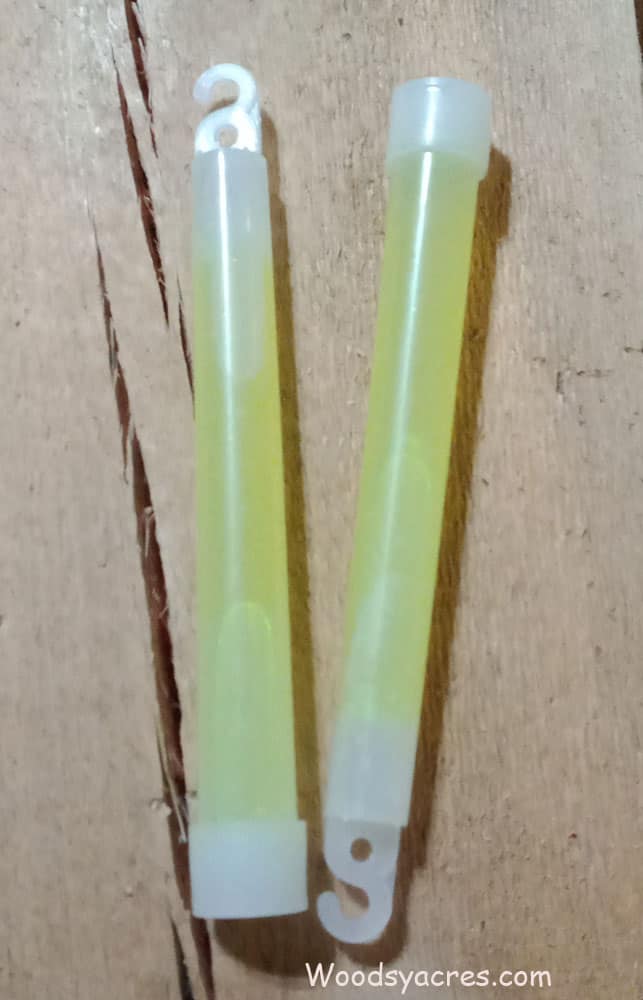 This fun stick you break and shake to mix the two chemicals inside that react and produce a temporary light source.
Battery Types: None required as they use a chemical reaction.
Brightness Range: Meager and typically a greenish color
Pros:
Very portable making them suitable for emergency kits
You don't have to recharge them or find batteries
For what they are, they offer a reasonable amount of time as a light source
Affordable
Cons:
It offers light only for a limited time, maybe up to 6 hours for some.
Light begins dimming once the chemicals are activated
No way to recharge them
Price Range: $1 – $6
All of these lighting sources offer a safe way to illuminate your living space whether indoors or outdoors. I wrote an article that talks more about these types of lighting sources that require no flames or messy smells.
Something to Keep in Mind About Lumens
Remember that the more lumens a product offer, the more power it'll consume. A lumen is a measurement of brightness in lighting that requires energy to create. So it may sound awesome that you have a super bright flashlight, but it may only last for an hour or less due to the required power consumption to produce that light.
In many cases having a device with a lower amount of lumens will work fine in most situations. Also, take into consideration the battery size the device holds.
Where to get Power for Charging up Rechargeable Devices
With these types of lighting sources, there will be a need for many of them to have some power from electricity to recharge them. If for just a few nights, the lighting device will work fine.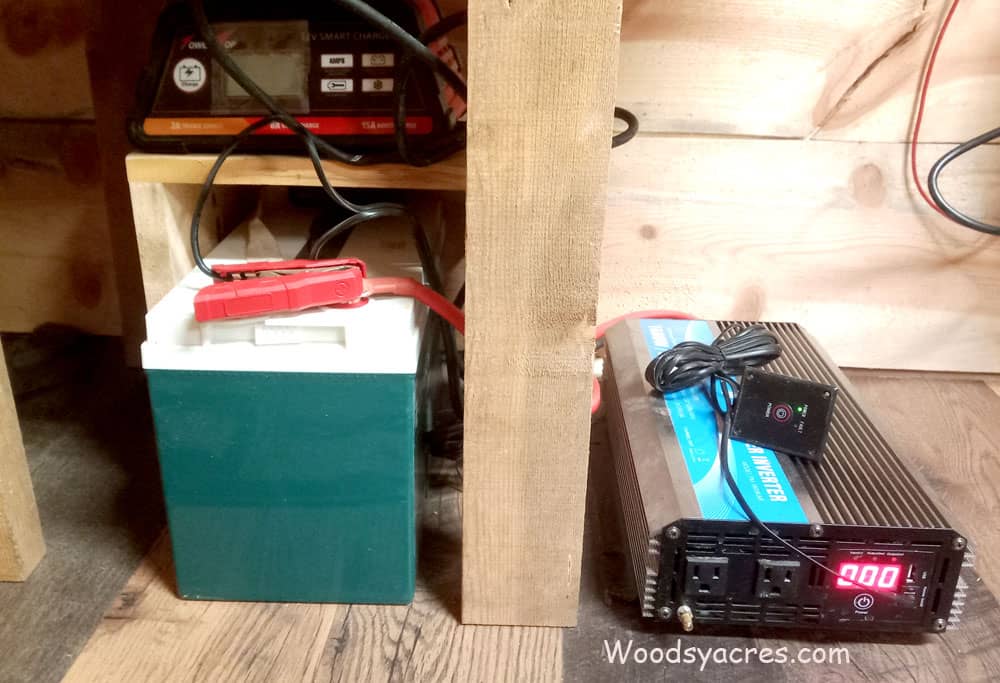 What I did for over a year was use a 12 volt 100 AH battery in combination with a small generator. I would fire up the generator during daylight hours, connecting to an intelligent charger that would charge the 12-volt battery.
Once charged, I would turn off the generator, and a 1600-watt inverter connected to the battery gets turned on. I had a power strip attached to the inverter where I could get power for recharging my lighting devices.
If I had food that'd spoil quickly, I'd use this same setup for a short time to keep a small under-the-counter refrigerator plugged in during the night.
However, long-term or permanent use of these devices will require a small or large solar array system. A solar system will provide enough electricity to allow for recharging and potentially much more.
Even a solar generator would be an excellent power alternative. Worse case, a fuel-powered generator will work too, but with the price of everything these days, you'd want to limit the use by getting things charged up and then turning it off.
Also, many vehicles driven today have USB ports for charging purposes. Some cars even have small inverters that produce AC power.
TIP: If possible, buy proven quality lighting devices because you'll want them to last more than just a few months to a year. This will become critical when you need the light source.

Jim at Woodsy Acres speaking from experience
Don't Throw Away the Fire Fueled Lighting Devices
Still today, some live out and away and still use many old-school lighting devices. These same lamps, lanterns, and sconces also create a warm atmosphere within their living area. This lighting source is still an intricate part of living away from the grid, especially if this is something purchased and stockpiled.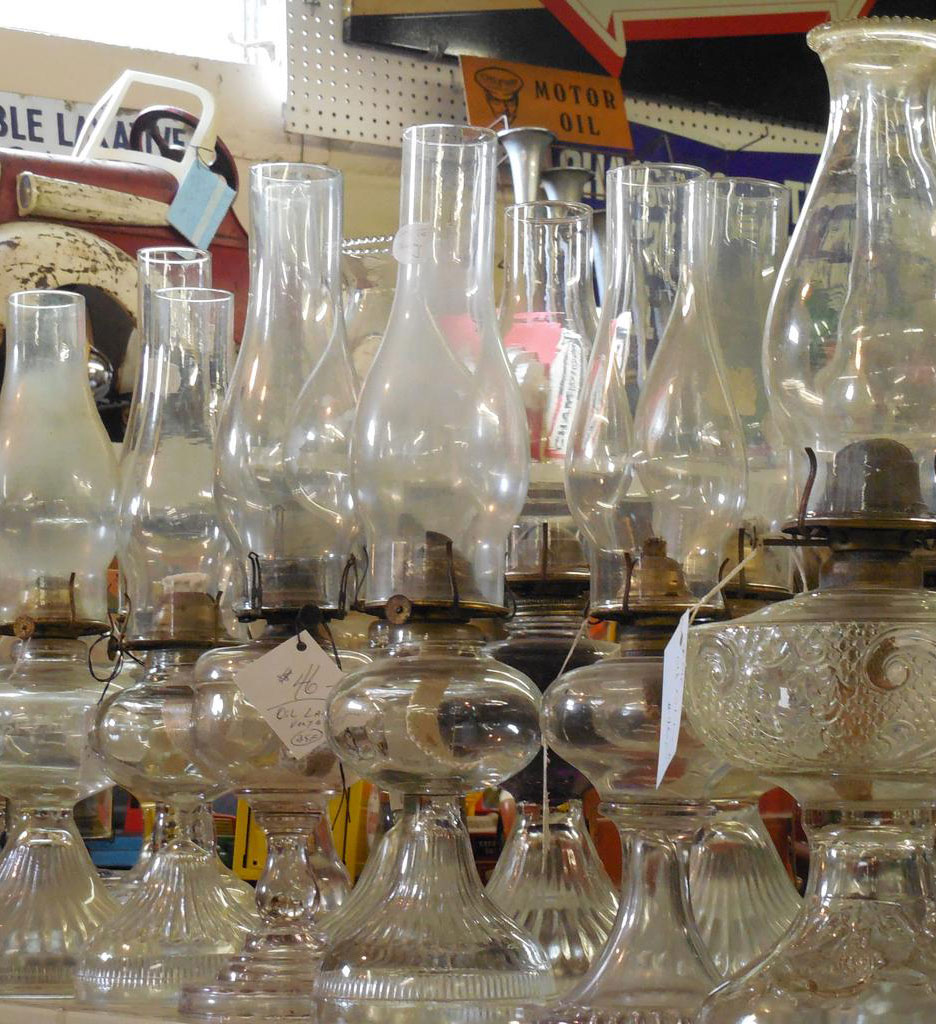 It can even be a good idea to keep certain items in every emergency stash just in case all batteries and other power sources get used up ultimately. Make many of these items part of your plan B or C of your emergency planning.
Candles on a portable sconce
A wall-mounted candle sconce hangs on the wall. Some of these would come with a glass shield to keep the flame from extinguishing. In contrast, others could have a reflective back, such as tin, to aid in throwing off more light.
Kerosene hurricane lanterns which typically use flat wicks
Kerosene glass and tin tabletop lanterns, both mantle and flat wicks
Propane fixed wall mount lanterns
Portable propane mantled lanterns
White gas lanterns
And then, fuel is needed for whichever items you might choose. So, first, there's wax for the candles, kerosene or paraffin for the lamps that use that oil. Then propane and white gas for those types of fueled lights. Oh, and don't forget the matches or lighters required for fuel lighting.
Between the modern lighting and a few fire-fueled options, you'll have plenty of lights for many years.